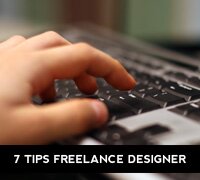 Seven golden tips for a beginner freelance web designer
by: on October 25, 2011 in Roundups
Nowadays, website building has become a real industry and, in this climate, it is harder and harder to resist and be profitable as a freelance web designer. Despite all these challenges, a great number of freelancers are working individually and this is the main clue that we can all live on this planet. I must emphasize that the respective freelancers resist on the market especially because of their skills, talent, and competitiveness. Potential customers welcome a strong competition but, for a beginner freelance web designer, this life is a complete hell. Who is the client that is rejecting the services of a web design agency or an experimented freelancer?
A very important moment in the career of anyone is at the beginning and we have all passed through this situation; personally, I believe that the most difficult attempt to gain the first job is reserved to web designers. In this trade, a few years of experience and good testimonials are golden, or else few people might be interested in your services. Once again, nobody was born directly with good testimonials and years of experience and an optimistic approach is the best solution. Beside this, there are several very important tips that contribute to the transformation from an amateur, without any project gained, to a designer who finally fully joined his branch.
Keep your cool
The more time passes until the first project is awarded, the more a young web designer gets panicky and his judgment is negatively affected. The wise mentality is to bravely expect the many issues that across the time will be solved, patience is the key. An alarmed guy, ready to do anything only to start effectively working may lose other opportunities and clearly, being under pressure lowers ones efficiency and power will. It's good to know that many attempts to become a freelancer are failed because of the impatience and the huge pressure to gain the first money.
Don't wait for miracles
Other people present themselves as being "too cool" and expect clients to come to them; obviously, this is wrong or stupid; even the most talented designers may do something but in this harsh competition, I am seriously in doubt. In order to really receive the first project a web designer must promote himself with all his means. The existence of a strong portfolio is mandatory, or else how can somebody know that you are a designer and evaluate your skills? In addition, learning must be a priority, don't worry, anyone learns during his life. Each day must be a new step to reach the wished task; waiting is nothing more than an excuse for lazy folk.
Organize clearly all your stuff
A smart web designer, no matter if he is a specialist or a newbie is characterized by paying great attention to the way of how all his stuff from the PC and professional life is organized. A lot of time is saved only by respecting a few rules of organization: the emails must be classified according to the categories established, the freebies should be stored correctly, icons with icons, textures with textures etc. Working on multiple projects is great but there must be some priorities defined; a huge mixture of tasks and deadlines is hard to manage resulting in an important waste of time, energy and missed deadlines.
Use web design blogs and online resources intensively
No matter if you are student or you have already graduated, the online sources have become more trustworthy, now competitive and quality information can be found here. The latest trends, the most interesting tutorials, good tips, and inspirational showcases are only few items that attract readers constantly.
Propose own deadlines
It could happen that an industrious folk to work day and night; it isn't bad, but something which can be vital is missing: the need for self-evaluation. The best solution to see your progress and work during a day is to keep a clear evidence of your tasks along the day and not to waste your time use deadlines and rewards. It's simple how I work, I must have finished this post in order to see what was happening on Facebook with my friends… as long as it wasn't ready, no new updates. Besides that, the possibility of quantifying the progress is fabulous; it's interesting and useful to know that i.e., this month you were more productive with x%.
Ask for advice and feed-back
Another solution for obtaining a clear idea about your progress is purely to ask other people about their opinion regarding your works. There is nothing simpler than that, isn't it? Be sure, you really progressed when the first client shows content for the job you have done, but you may use other factors to reveal your evolution. Don't be afraid even if the replies aren't too encouraging; ask for advice and feedback as much as you can, as you stand nothing to lose. Much more, you don't know when, while you are asking for feedback online, a folk is admiring your work and may hire you.
Try to compete in many competitions
God helps people who really want and make an effort, or else I don't think He is helping us. Consequently, try to compete on many competitions and try to offer your best. This modality will make you as a robot but it is impossible not to be successful and gain clients. It does not matter if it is on job boards, on various competitions, a tournament or a trial for a vacant position in a web design agency. I think that these are enough, you must be proficient, and the clients surely will come.
What do you think, is there any piece missing? Have you other innovative ideas? Please let me know, therefore use the comment form for this; I am waiting impatiently to see what you consider about the beginning of the freelance career.
Please dont forget to  and for recent updates.
credit: Image thumbnail used
About the Author
Daniel Pintilie
Daniel Pintilie works for increase conversion rate Company Invesp and enjoys writing on landing pages and affiliate marketing.
Please check related post:
Post a Comment
Your email is never published. Required fields are marked *
All comments are moderated. Inappropriate and non constructive comments will not appear.