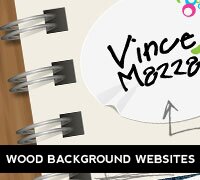 Creative Websites with Wood Backgound
by: Mark Abucayon on June 04, 2009 in Web Design Inspiration
I just want to ask a few questions, do you like wood background? or do you find them attractive as a website background? Well, if you ask me, I find them as one of the modern style website and they look attractive for me (Just my thought). I know this is a little bit late posting about websites with wood background but I would like to extend it through this post. In this post I want to share a list of 15 Creative Websites with Wood Background in no particular order.
Did I forgot to include your website? well, you can always add it in the comment area and I would be glad on it. For more blog post update you can.
Online Portfolio of Freelance Designer + Developer Brad Candullo

Capitol Media

3ml – La petite dose qui fait bouger les choses – Profil

Nine Lion Design

Copywriting, web copywriting, ghostwritng, vertalingen – no copycat

Bonsai Studios, LLC | Web Site and Graphic Design

Thiago Canudo

Morris County New Jersey top Web Site Designer Vincent Mazza

New Zealand Travel Blog

Duchy Originals

Web-Designer, Freelance – Lesly Garreau

Adrie's blog

Blog: Musica e impegno sociale

Best Creative Web

Sydney Web Design blog Cheb 2.0

About the Author
Mark Abucayon
Visit Personal Website
Hello Everyone my name is Mark Abucayon Freelance Web Designer and Developer from Philippines, in short call me Mabuc.
Please check related post:
Post a Comment
Your email is never published. Required fields are marked *
All comments are moderated. Inappropriate and non constructive comments will not appear.