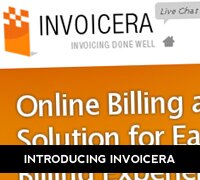 Invoicera: Fastrack Invoicing & Billing with Smooth Features
by: Mark Abucayon on February 15, 2011 in Roundups
All businesses need to invoice their clients for their products and services provided so as I do. I needed something that could invoice clients, send more professional proposals, and keep track of it. So, I shortlisted some of the best online invoicing and billing applications, out of which Invoicera proves to be the best with striking auxiliary features and efficiency in services. Before also I have heard a lot of buzz about Invoicera, so I decided to give it a try and see what all the hype was about. Invoicera is something which you must try as it is made for every online business whether it is small or large. Despite its low cost services, Invoicera offers great flexibility in invoice forms and reporting to suit the billing needs of everyone. If you don't require a complete integrated accounting package, but want to automate your invoicing and collections, Invoicera could offer just the right mix of enriched services for you which comes with many exceptional features.
Why to choose Invoicera?
If you have a look on the recent updates which it has launched, you will notice that it is making continuous efforts with a sole objective to provide its users with every possible solution which they might need to make their billing as efficient as possible. The newly added features by it enhances your credibility in front of your clients and gives you an extra edge to take a lead over your competitors.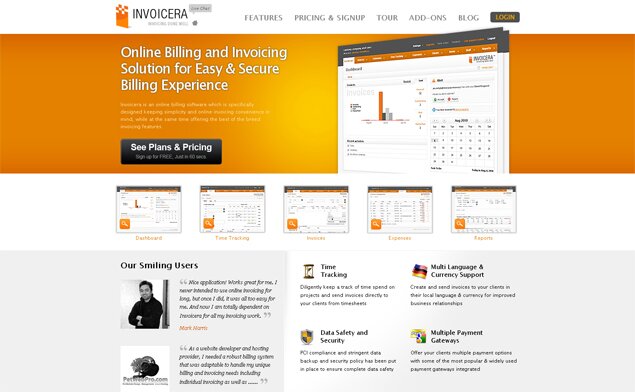 We did an in-depth review for this invoice billing software and found some interesting facts which we would like to share with you. Keep your mind as well as your eyes open because you are really going to get some interesting facts from here:
Supports Multiple Languages and Currencies
Invoicera allows you to create and send invoices to your clients in their respective currency and language. You can generate invoices in as many as 11 languages for your individual clients worldwide. Invoicera includes the currency conversion only under client profiles that you setup for your individual clientele and not under every individual invoice you create. The benefits of this is that you do not need to perform a currency conversion every time you generate or create a new invoice, saving you time of filling out such fields constantly.
Allows you to modify your template
Most of the billing software provides a default template for invoicing your clients. The problem which you face in them is; you have different clients at different places and so their needs for invoices also differ in nature. You may want to give discount facilities some of your clients but not to all of them, or you may want to charge late fee to those who often delay in making payments. Invoicera with its template customization option allows you to modify your invoice template for each and every client. You can easily add or delete any section from the template which you don't think is necessary for a particular client. This not only enhances you billing capacity but also reflects your professionalism in front of your client.
Schedule your invoices and take some rest
Invoicera provides you with the facility to schedule your invoices for a particular date and the client to whom it has to be sent. Once you enter the name and the date for a client to be invoiced, your invoice is sent exactly on that date and time only. So from now onwards you don't need to panic about remembering each and every client's name to which you have to send invoices. This eases your billing procedure and provides you with some spare time.
Delegate your tasks to your staffs and manage them as well
This is another interesting feature which Invoicera provides to you. Now you can allocate your tasks to your different staffs and can also keep a regular check on the performances of your staff members.
It will provide you with all the details related to the assigned task like; how much time has been spent by your staff to accomplish that task and calculate the actual cost by your staff's hourly billing rate. The moment you add a new client, you can assign that client to your staff and keep a track of it as how many invoices has been sent by that staff and how many clients he/she has added. This helps you manage your project in an efficient way and increases your productivity as well.
Keep a check on both your time and expenses
With the time tracking software of Invoicera, you can easily track each and every second spent on a particular project. You can use the project work log whenever you start working on a task and in the end of your task, it will show the exact time which you spent while doing that task. While its expense tracking allows you to create expenses which you have made while working on a project for your client. Once you finish with a project you can add these expenses in the invoice which you will send to that particular client.
1 2 3 4…………20 major payment gateways
Isn't it something really astonishing? We haven't seen an Invoicing billing software providing with such a wide variety of payment gateways for billing. The benefit for so many payment gateways is that you can now make and accept payments by all your clients irrespective of their location, some countries support few gateways for their citizens but using such a wide variety will definitely meet the needs of almost all your clients. Paypal, 2Checkout, Google Checkout, Authorize.Net and many more are some of the most favorite payment gateways of the online industry.
Customer Support
The enhanced and reliable customer support by them let me feel like working at my own terms. They responded me with their efficient and quick e-mail, live chat as well as telephone support whenever I needed it. Invoicera also maintains a regular blog section which provides you all the updates about the inline billing services which added to my awareness. You can also follow them over and to keep yourself updated.
Invoicera with Google apps
If you are a user of Google apps, than using Invoicera will create lots of benefits here. The application can easily be accessed through various Google applications with single sign in process and further utilizing Invoicera with single Google domain name.
Till now, you must be clear in your mind to make an effective decision regarding the choice for an apt invoice billing application. However, it is easy to be influenced by someone, but what we suggest is to use your brain, understand the needs and requirements of your business and then make a decision whether Invoicera can be helpful for you or not? And we trust your decisions!
About the Author
Mark Abucayon
Visit Personal Website
Hello Everyone my name is Mark Abucayon Freelance Web Designer and Developer from Philippines, in short call me Mabuc.
Please check related post:
No Related Post
Post a Comment to Manish Chauhan
Your email is never published. Required fields are marked *
All comments are moderated. Inappropriate and non constructive comments will not appear.