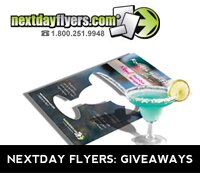 Utilizing Die Cut Postcard and Flyer Designs : Free Giveaways
by: Mark Abucayon on August 29, 2010 in Freebies
Marketing with printed flyers and postcards is a cost effective way to help spread the word about things such as a new business, a party, or a sale. When a die cut design is added into the mix it can be extremely helpful for creating a reason to not only read the postcard or flyer, but also to save it. By utilizing clever die cut shapes the marketing piece can be used as an incentive, such as a ticket into an event or as a coupon for a free drink. Not only that, it's fun and unique and can help to create brand awareness.
Die cut shapes aren't limited to typical square or round cuts. The more unique the more your postcards and flyers will be differentiated from the massive amounts of marketing your customer base is exposed to each and every day. Get creative and think about how you can use die cut shapes in your graphic designs.
Next Day Flyers is offering a $25 printing credit good toward their online store. All you have to do to enter is leave a comment as to what you'd like to print. A winner will be selected at the end and contacted via email. Must be 18 or older to enter.
About the Author
Mark Abucayon
Visit Personal Website
Hello Everyone my name is Mark Abucayon Freelance Web Designer and Developer from Philippines, in short call me Mabuc.
Please check related post:
Post a Comment to santa barbara web design
Your email is never published. Required fields are marked *
All comments are moderated. Inappropriate and non constructive comments will not appear.